TEO

: A low energy computer

TEO is short for Thin Economic Office,

the low energy consuming computer

We have partnered with german computer manufacturer Christmann Informationstechnik + Medien, to become the exclusive vendor in the Grand Duchy of Luxembourg.
These computers are a German product.

Especially interesting to larger audiences, we sell to schools, colleges, municipalities, professionals and individuals.

You can purchase just the computer or a complete kit, including screen, mouse and keyboard - a complete starter kit.
Discover our full range online at the TEO-Shop !
Go to TEO-Shop to choose, compare and order your computer.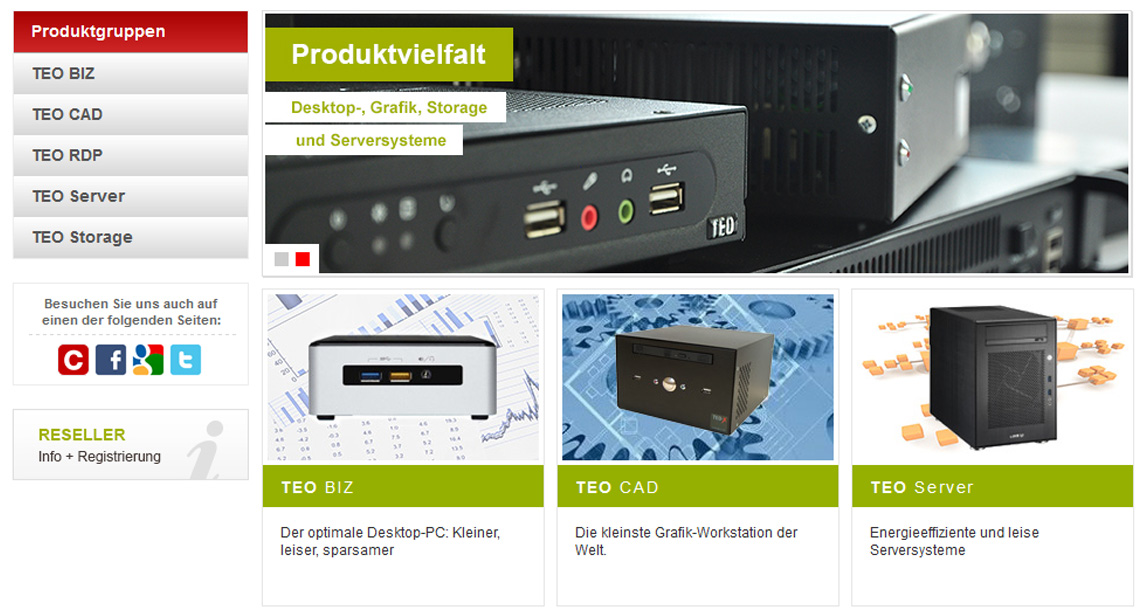 Advantages of
TEO

:
The Central Processing Unit also called "The Tower" is only 12cm tall, providing very substantial space savings.
Super quiet, TEO is not noisy even when sat on your desk next to your screen.
Direct access to the CD & DVD drive plus two USB ports within easy reach
TEO computer is fully configurable to your needs and budget
A big plus is TEO's low energy consumption. TEO-X low consumes only 17-32 watt/hour (depending on chosen configuration), compared to 100-150 watt/hour compared to a conventional unit.
Great design - choose the colour of your box.
Available
TEO

services:

You are not a geek at heart and need help choosing the right computer? We are here to help even after you bought your computer! We offer:
Pre-configuring your TEO computer (installation of vital programs, ready to start)
Home installation if needed
Ability to troubleshoot by phone or at your home
Help with installation of your devices
And much more!
By design, the TEO computer is super economical and quiet. Optimising space, everything is integrated into the mother board.
Our computers come with a 2 year guarantee.
Available within 1-2 weeks after order confirmation.
Possible home delivery.

For more advice before ordering, please feel free to contact us:
This email address is being protected from spambots. You need JavaScript enabled to view it.

26 47 47
Our advisor will be happy to guide you and answer any questions you may have.